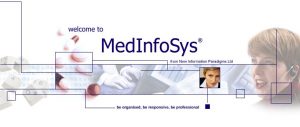 MedInfoSys® SaaS is a pure, web-based system for the management of medical enquiry handling.
It is principally aimed at smaller, dynamic companies who want a solution that:
Is intuitive and easy to deploy and use.
Is highly-configurable, such that:

Optional features can be turned-on and off to suit company needs.
Company-specific terminology can be used wherever possible.

Is fully validated and compliant with 21 CFR Part 11 and other regulatory demands.
Achieves consistency across their medical information operation, whether located in one site or many (including in different countries).
Handles the unique requirements of medical information with reference to other company functions.
MedInfoSys® SaaS is offered as a hosted "Cloud Service", which has the following advantages:
Minimum amount of administrative bother, project cost and financial risk of failure.
Reduces market entry cost.
Affordable pay-as-you-go pricing model, which spreads costs.
Greatly reduces IT involvement and dependence, removing internal support and maintenance worries.
The implementation procedure involves working through a series of checklists and set-up questionnaires, refined over many years of experience to ensure a comprehensive, risk-free deployment.
Read more about various key aspects of the system on the following pages, or do contact us for more information: