Many organisations will have their own contract management systems in place.  However, there can be circumstances where consolidating contract information from a number of sources into 'shared spaces1' – for example individual areas/sites, companies within a group or project etc. – where aggregation and contract alignment can offer significant savings.
The starting point is to gain control over existing contracts and then manage the stages that make up the Commercial Life Cycle.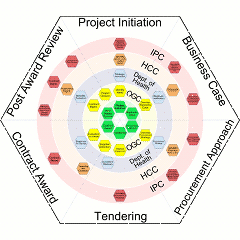 Control and leverage can be gained through:
Having a single place for all contract information and metrics, via our Active Contracts Register™.
Encapsulating, controlling and managing all the Commercial Life Cycle processes with our PL-cms™.
Gathering and controlling the protocols, Standard Operating Procedures, documents, etc, that underpin the Commercial Life Cycle (a single source of up-to-date content and process know-how).
This provides a solid foundation for:
Reducing/removing, via continuous improvement, the (transaction) costs incurred during the Commercial Life Cycle.
Compliance and transparency requirements.
Organisational collaboration, change and ultimately transformation.
Connecting and configuring commercial information currently residing in various 'islands' of information and automation.
In turn, this enables you to demonstrate that you are in control and delivering 'more for less' through easy-to-use, online application software solutions:
Active Contracts Register™ – securely record the details of current and proposed contracts.
PL-cms™ – track the whole procurement life cycle to control, manage and transform procurement processes.
1 Michael Schrage, No More Teams!: Mastering the Dynamics of Creative Collaboration, 1995, pp.93-95