Managing and Measuring What Matters: a New Management Paradigm
The challenges facing the modern business world are well-known and well-documented – significantly enabled, driven and powered by disruptive new technologies, the pace of change is accelerating; complexity, unpredictability and volatility are increasing; the "rules" are changing.
Whether at an individual level, or as reflected in PESTLE "mega-trends", expectations are transforming; the effectiveness of familiar structures, roles, values, priorities and tools is reducing, and so is the trust placed in them.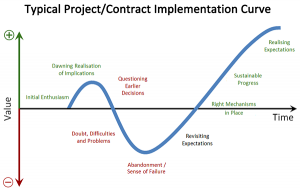 However – despite a clear need and mandate – change isn't coming fast enough.
Most commonly, existing tools are being applied more forcefully or widely – capability development programmes, behavioural charters, external standards, etc – but this is an "old" response to what are mostly new, "soft" and subjective challenges around people, priorities, culture, trust, etc.
Not only are traditional "command and control" approaches and IT systems then also counterproductive, but even new technology – "big data", analytics and Artificial Intelligence (AI), etc – inherently can't provide the human knowledge that is principally what's needed (and many such tools are at a stage of relative infancy, with any promise they have being mostly downstream).
A new approach – a "new management paradigm" – is urgently needed, that:
Appropriately leverages technology.
Engages people, motivates them and delivers change by enabling them to effectively and powerfully manage and measure what matters.
Best uses scarce and valuable resources.
Gets the right mechanisms in place from the outset to eliminate all the waste, frustration and anger that otherwise follows.
This sounds obvious and simple, but all too often:
Crucial things are left unsaid and unexplored that cause problems later.
There are unresolved or unexpressed disagreements on what matters and why, both within and between organisations.
"What matters" varies and evolves with the situation and the people involved, and existing tools – especially contracts, surveys, spreadsheet assessments, and formal standards – are fixed, inflexible, inherently incomplete and out of date, and therefore inadequate.
There are measures for what's tangible and easily quantifiable – KPIs, costs, etc – but not for intangible expectations, value and perceptions that are at least as crucial, if not more so.
Time and energy is wasted on things that don't matter to some or all of the people involved.
These are the problems that NIP's ARC solutions solve by empowering teams, organisations and value chains of any size to:
Surface what matters to all concerned so that it can be measured and acted upon.
Define and deliver "value", much of which is intangible and far broader than cost – the new discipline of Value Management Accounting.
Clarify purpose and outcomes, and ensure top-to-bottom congruence of behaviours and actions.
Address wider and longer-term concerns and stakeholder interests.
Create/restore and embed trust, increase confidence and streamline interactions.
Achieve cross-boundary communication, management, integration and collaboration on a new scale.
Find a way out of the current "mess" of undifferentiated data and diminishing returns.
Learn more:
(External links)