An Introduction to the Draft ISO 11000 Standard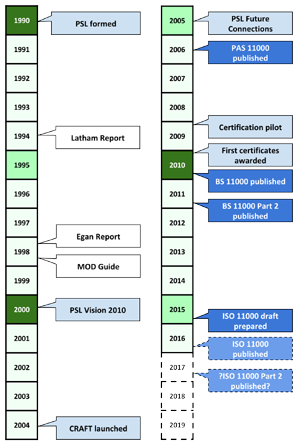 The draft version of the ISO 11000 "Collaborative business relationship management" standard was released on the BSI site for comments in early 2016 ahead of anticipated publication later that year.
In this series of three articles on "An Introduction to the Draft ISO 11000 Standard", written in response to the draft as it then was, we considered:
Note that, prior to its publication, the standard was renumbered from ISO 11000 to ISO 44001, but the observations made about the draft remain highly relevant and current.
The progression to ISO 11000 was the latest step in a 12 year journey to date (see right):
The ICW's CRAFT framework and methodology was launched in 2004.
This became the basis of the PAS 11000 that emerged in 2006.
PAS 11000 then achieved BS status in 2010.
Throughout most of this time, NIP had been providing knowhow and supporting technology to the collaborative working domain such that we were well-placed to comment:
We are a long-standing ICW partner (making CRAFT tools available online as early as 2007).
We've worked extensively with other pan-industry collaborative working and relationship development programmes.
We've combined this experience and expertise to map and synthesise these methodologies and their supporting tools, to factor out and "encode" the things that matter most in delivering, measuring and enhancing business value.