Case Study: FSL Scale-up Relationship Engagement
01344 753714
mike.marten@nipltd.com
The challenge
Scaling-up FSL's relationship engagement in breadth and depth, using the SC21 RMR process and RMM diagnostic tool.
The solution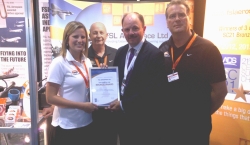 Applying the SC21 RMM in new ways made possible by NIP's new ARC RMR Service.
How it worked
Eliminating administrative overhead associated with the Excel-based RMM; dramatically extending the tool's reporting capability to encompass portfolio analysis.
The results
Identification of previously unknown supply chain issues that could have had a seriously detrimental impact; enhanced relationships through specific feedback and consolidated portfolio insights; more efficient and relationship-specific use of resources.
"We're even clearer now on our strengths and weaknesses… several things have been surfaced that could potentially have turned into serious issues left unchecked."

Carly Prickett, FSL
A bright future
Further extending relationship engagement within FSL, primes, the tiered supply chain and the SC21 community.
"Instead of just focusing on beating down suppliers on price, we all ought to be working with them to identify areas to improve… and then sharing that information with them. A higher percentage than ever is being invested in external relationships: why not listen to where you're spending your money?"

Neil Broad, FSL