Case Study: FSL Trebles SC21 Customer Engagement
01344 753714
mike.marten@nipltd.com
The challenge
Engaging multiple customers to obtain rich continuous improvement feedback, using the SC21 RMR process and RMM diagnostic tool.
The solution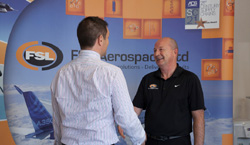 Complementing Q&D feedback by applying the SC21 RMM in new ways made possible by NIP's new ARC RMR service.
How it worked
Eliminating administrative overhead associated with the Excel-based RMM; successfully decoupling the process from the workshop; exploiting the service's new portfolio analysis reports.
The results
Trebled customer engagement with the RMR; an unprecedented 'snapshot' of FSL's performance; enhanced clarity about FSL's relative importance as a supplier.
"The RMM surfaced things simply not covered in surveys and account meetings, and although nearly half of respondents waived anonymity, it empowered them to give feedback they might be less likely to give in person – much of which is directly actionable."

Richard Woodward, FSL
What next?
Identifying and sharing improvement activity; holistic overview through being able to benchmark against supplier feedback; setting and revising performance targets; further extending engagement.
"SC21 suppliers need to recognise that customers have limited resources and get creative in how they engage their customers… The industry needs to work together as a whole if we're going to rise to the challenges facing us – primes need to widen their vision, encourage suppliers to appropriately engage with them and reward those that do."

Neil Broad, FSL