NIP participating in ISO 11000 feedback and review process
14th January 2016 – Posted by Stephen Bruce at 2:50pm
The draft version of the ISO 11000 "Collaborative business relationship management" standard has been released on the BSI site for comments ahead of anticipated publication later this year, and NIP is actively contributing to the feedback process.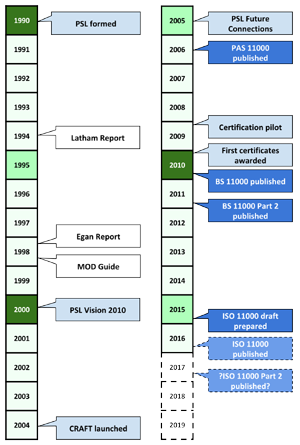 The progression to ISO of the existing BS 11000 standard is the latest step in a 12 year journey to date:
The ICW's CRAFT framework and methodology was launched in 2004.
This became the basis of the PAS 11000 that emerged in 2006.
PAS 11000 then achieved BS status in 2010.
Throughout most of this time, NIP has been providing knowhow and supporting technology to the collaborative working domain, providing a firm foundation for now contributing to the ISO 11000 discussion.

Not only are we a long-standing ICW partner (making CRAFT tools available online as early as 2007), but we've also worked extensively with other pan-industry collaborative working and relationship development programmes – most especially in mapping and synthesising these methodologies and their supporting tools, to factor out and "encode" the things that matter most in delivering, measuring and enhancing business value.

We're therefore well-placed to comment at both a detail level and about high-level issues, although the BSI interface is most readily-suited to providing comments on particular sections of the draft standard.

As with the other comments on the BSI site to date, our comments so far have therefore mostly flagged areas of overlap and duplication, noted errors, etc, but we'll also be looking to present higher-level observations and commentary on the overarching themes and structure.

Some of the things we'll be looking to address are:
How the ISO version relates to BS 11000, both in structure and in coverage – additions, removals and changes.
The adoption of the new Annex SL structure for management system standards, and its impact in context – both positive and negative.
The clarifications made around relationship management plans (RMPs) and exit strategy.
The need for clear "how to" implementation guidance, whether in a revised version or in a subsequent Part 2 (which BS 11000 received).
If and how ISO 11000 will support the management and measurement of relationship performance (i.e. beyond developing structure and capability).
Comments can be made until 7th March 2016 (registration required): why not join us in contributing to the discussion, too?
You can also read our consolidated view of the new draft.