Value Networks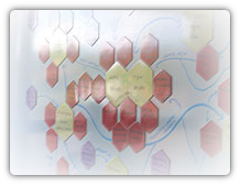 Value Networks, or Value-Nets1, take the traditional analysis of value chains – by industry player or industry sector – and add a new dimension (i.e. not just "who", but "what" and "how") that more accurately reflects the dynamic and re-configurable business models (sometimes referred to as "Ecosystems") made possible by the Internet.
Using Value-Net principles to harness the power of the Internet offers an entirely new way of managing information and connections, no longer limited by distribution or geographical constraint.
This is fundamental to NIP's business model, where we look for ways to facilitate improvement activities, collaboration and information-sharing between people, departments, and companies.
NIP has factored out the functionality required to support change management across boundaries, and this has become an invaluable aspect of solution-creation for industry sectors, and for individual clients. Checklists can be derived to analyse:
The domain under consideration within context.
Who does what, and whether this arrangement is both effective and determined.
What type of activites are being performed.
Which activites are particularly high-value and where inefficiencies lie.
1Value-Net is a both a term, and a domain-neutral approach – originally developed by Cinzia Parolini.