Manage Portfolios
A Portfolio approach is powerful when used: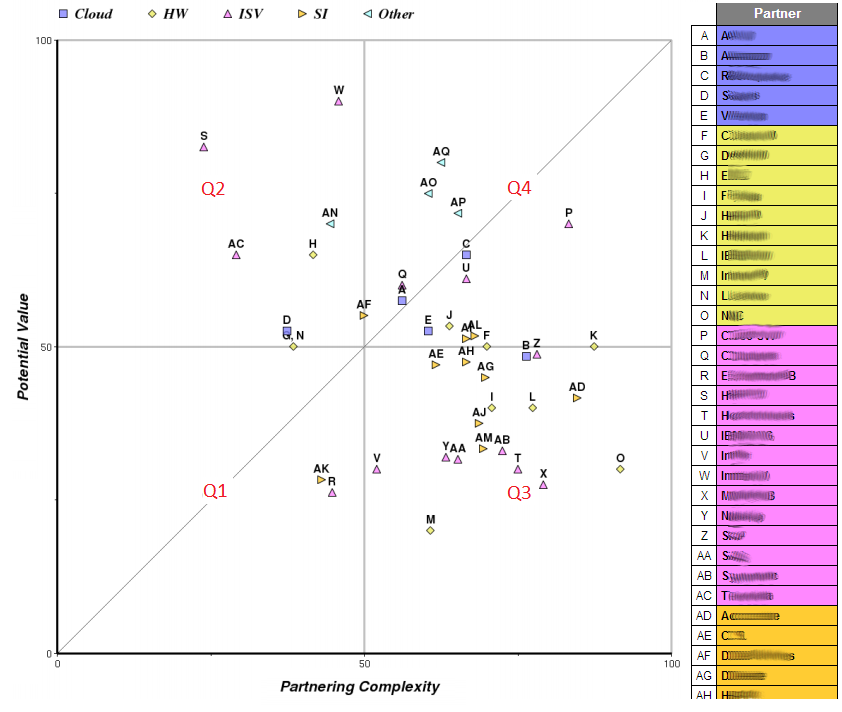 As a dynamic refinement of, or replacement for, top/key relationship lists (i.e. Pareto-based).
To segment and visualise the positioning of ecosystem participants.
To optimise the allocation of management resources, based on strategic intent.
To facilitate the application of best practice, by quadrant, to meet the different demands and management styles.
The approach is typically implemented using a 2x2 matrix, with variants of "Value Out" vs "Investment In" as axes. A series of parameters is defined to score for each axis, with each participant/entity then being positioned by aggregating the individual 'scores' for each axis.
Portfolio diagnostics can be deployed at any stage in the lifecycle, their adoption and use being influenced by maturity levels in any given situation. Contact us for more details.
Red Hat Software use an instance of NIP's Assessment Framework – The Partner Profile Manager – as defined by The Rhythm of Business, to take a strategic approach to their portfolio of sales channel partners – here is a presentation given at the 2014 ASAP Global Alliance Summit.